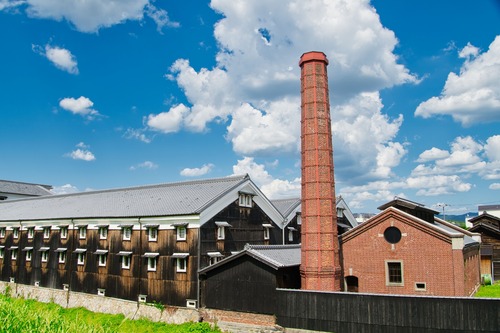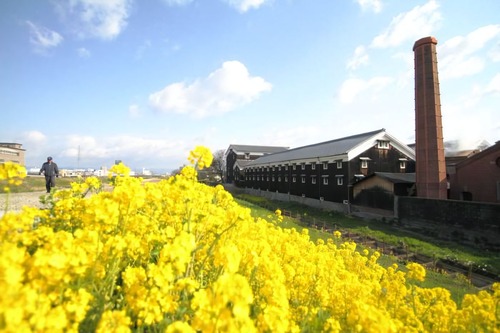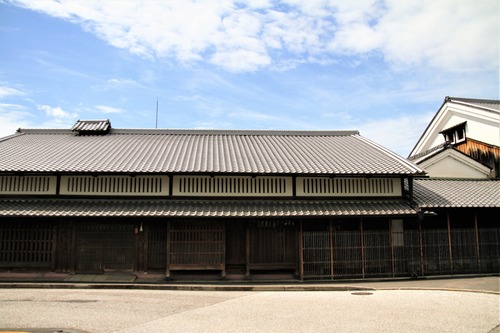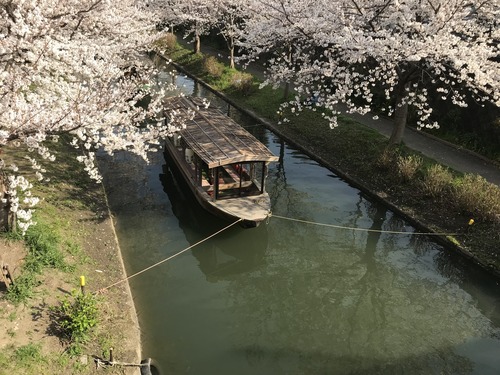 Fushimi, an area with a mix of sake breweries, both large and small, and historical sites, is one of the most popular tourist spots in Kyoto, and is also a good area for cycling as the land is flat and has a compact collection of sights.
Starting from the cycling path along the Katsura River and heading to the path along the Higashitakase River, you can enjoy the view of Fushimi's typical sake breweries and the beautiful scenery of canola flower blooming all along the river in spring.
If you head to the road along the Kamo River, and from there to the southeast, you will find the cityscape of central Fushimi. The Jikkoku-bune, a reproduction of the boats that used to transport sake, rice, and other goods between Fushimi and the center of Kyoto, travels along a course with beautiful sake breweries and waterfront. You can enjoy the port town of Fushimi while the gentle breeze blows.
If you go north along the Kamo River, you will find Jonan-gu Shrine, which was built about 1200 years ago in the south of Kyoto when the capital was relocated to Heian. This shrine is revered as the "Great Shrine of Houyoke," which removes worries about moving, construction, and family affairs. In the garden where plants related to the Tale of Genji are cultivated, you can enjoy the beautiful scenery of the four seasons as well.
The Fushimi area, a popular place for sake, is a fascinating place where you can feel the culture of Heian-kyo and the charm of a port town. Please visit there with your bicycle and the functional and beautiful goods we carry.
MokuNeji's New Bottle
https://www.shokunin.com/en/mokuneji/bottle.html
Okai Mafu Shoten's Handwoven Linen Handkerchief
https://www.shokunin.com/en/okai/handkerchief.html
SyuRo's Long Wallet and Coin Purse
https://www.shokunin.com/en/syuro/leather.html
References
https://kyoto-bicycle.com/pdf/cycling_ja.pdf
https://kyoto-fushimi.or.jp/ship/
https://www.jonangu.com/