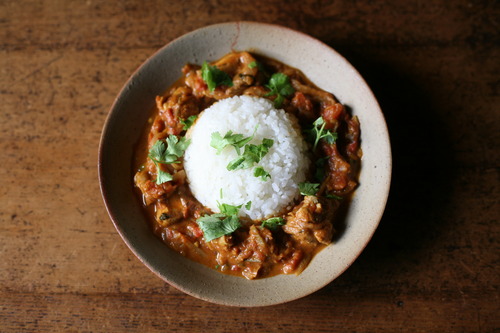 [Authentic Curry Made by Frying Spices]
We used to make curry using store-bought roux, but after learning from an acquaintance, we have recently become obsessed with making curry from individual spices. Summer vegetables make for a colorful dish, and it's hard to decide what vegetables to use to make curry today.
The spices are based on cumin seeds, turmeric, coriander, cumin powder, garam masala, and cayenne pepper. You can adjust the curry to your own taste and enjoy.
When making curry, having easy-to-use tools makes cooking much easier. For grating ginger and garlic, use Oya Seisakusho's Copper Grater and Kiya's Yakumiyose. How about using a Koizumi Glass's Flat Bottom Evaporating Dish to keep canned tomatoes and yogurt separate? For frying onions and spices, we recommend the Wooden Spatula from Okubo House Mokkosha.
The finished chicken curry had a surprisingly delicious aroma and taste that stimulated the appetite. Serve it on Ichiyougama's Deep Plate and enjoy!
Ichiyougama's Deep Plate
https://www.shokunin.com/en/ichiyou/deep.html
Oya Seisakusho's Copper Grater
https://www.shokunin.com/en/oya/
Kiya's Yakumiyose
https://www.shokunin.com/en/kiya/yakumi.html
Koizumi Glass's Flat Bottom Evaporating Dish
https://www.shokunin.com/en/koizumi/johatsu.html
Okubo House Mokkosha's Wooden Spatula
https://www.shokunin.com/en/okubo/hera.html
Reference
https://funq.jp/buono/article/10023/2/
 (Recipe)