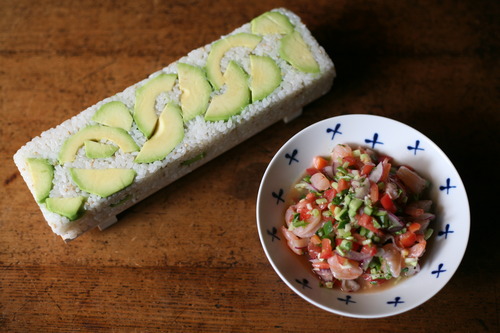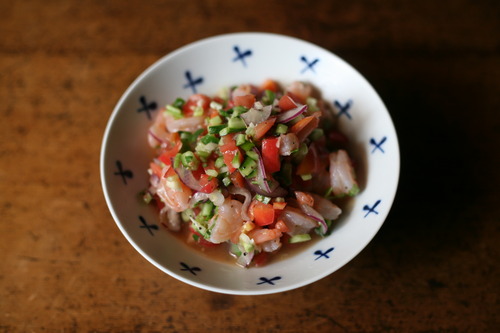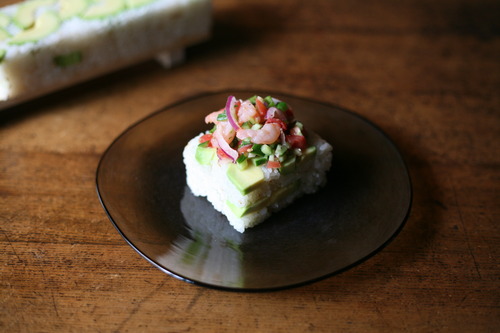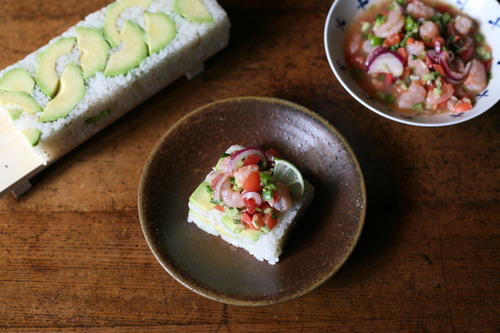 [Ceviche x Pressed Sushi, a Collaboration Between Peru and Japan]
Ceviche is a Peruvian-born dish of seafood marinated with lime and lemon citrus fruits and mixed with vegetables, and is widely served as a standard dish mainly in Central and South America. In 2008, ceviche was selected as "the best local cuisine in the world" by a Spanish newspaper. As a fish-loving Japanese, this is a dish that should not be missed. The seafood used mainly includes shrimp and squid, and white fish is also popular.
When we were researching about ceviche, we came across a foreign blog that introduced a ceviche combined with Japanese sushi, and we tried to make it using the Pressed Sushi Box because it looked very delicious. As you take a bite, you will be amazed at how well the white sesame seed-dusted sushi rice goes with the lime flavored ceviche.
If you use Japanese condiments such as yuzu, shiso, or myoga, you can arrange it into a Japanese-style ceviche. If you can't find hot chili peppers, you can use shishito peppers or sweet peppers, and add habanero sauce to make a real spicy ceviche. It is also a good choice for people who want to try a different kind of fish dish or for entertaining guests.
[Ingredients]
Moderate amount of prawns
1/4 of a purple onion
1 or 2 small tomatoes
1/3 of a cucumber
1 bunch of coriander
A pinch of green chilies (or shishito peppers, sweet peppers, etc.)
1 clove of garlic
(Marinade)
Lime (lemon) *Leave some lime slices for decoration
A pinch of salt
A pinch of black pepper
A little olive oil
A pinch of cumin powder (optional)
Habanero sauce (optional)
1.5 cups sushi rice 
3 tbsp of vinegar, 1 tbsp of sugar, 1 tsp of salt, white sesame seeds (as needed)
1 avocado
A little juice of a lime (lemon)
[How to make]
Prepare 1.5 cups of sushi rice. Peel avocado, remove seeds, slice thinly, and sprinkle with lime or lemon juice.
Lightly wash shrimp, boil, cool, and cut into bite-size pieces. Season with salt and black pepper, and add minced garlic.
Cut purple onion into thin slices, chop cucumber, green chilies and coriander.
Add the juice of lime (or lemon) and gently mix together. Let it rest in the refrigerator for 5 minutes to let the flavors blend.
Place the avocado in the Pressed Sushi Box, add sushi rice covered with white sesame seeds, and press. Place the avocado and rice on top of the avocado and press again.
Cut the pressed sushi into 8 equal pieces and remove from the box.
Place the pressed sushi on a plate and top with ceviche. Put habanero sauce if desired.
Yamaichi's Pressed Sushi Box
https://www.shokunin.com/en/yamaichi/oshi.html
Hakusan Porcelain's Hirachawan
https://www.shokunin.com/en/hakusan/hirachawan.html
Fresco's Kasumi Plate
https://www.shokunin.com/en/fresco/kasumiplate.html
Ichiyougama's Plate
https://www.shokunin.com/en/ichiyou/plate.html
References
https://frombatoparis.blogspot.com/2010/06/sushi-ceviche-japanese-peruvian-fusion.html
https://theculturetrip.com/south-america/peru/articles/how-to-make-authentic-peruvian-ceviche-according-to-a-local-cordon-bleu-chef/
 (Recipe)