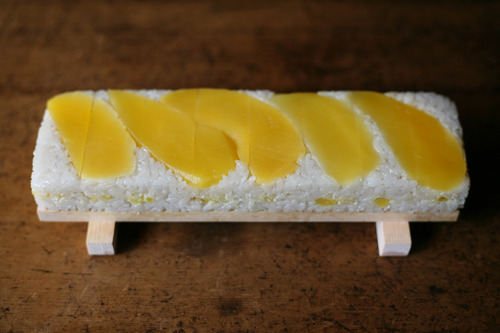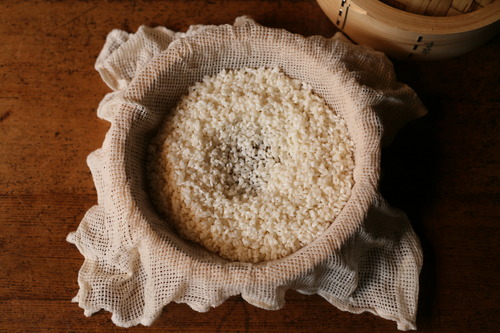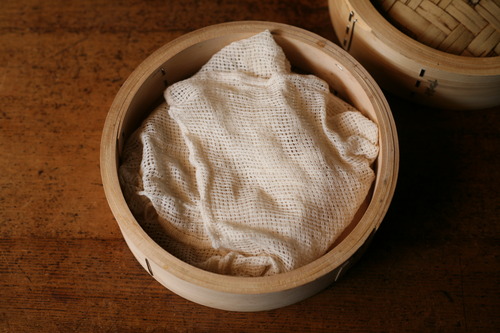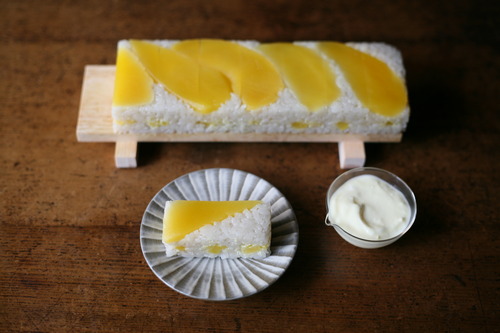 [Thai Dessert "Khao Niao Mamuang" in Pressed Sushi Box]
Khao Niao Mamuang, known as steamed glutinous rice with coconut milk and garnished with mango, is a traditional Thai dessert (there is also a method of cooking glutinous rice in coconut milk).
It has long been loved as a national dessert, appearing in restaurants, hotels, food stalls, and even on airplanes.
In Thai, Khao Niao means "glutinous rice" and Mamuang means "mango," and in Japan it is often called "mango and glutinous rice dessert." 
As summer is coming to an end, we made Khao Niao Mamuang in a pressed sushi mold using readily available dried mangoes and canned coconut milk, thinking of the everlasting summer in Thailand.
The flavor of coconut milk and mangoes made us feel like we were in a tropical country. Our interest in Thailand, a country we have yet to see, was further heightened.
[Ingredients]
About 8 sliced dried mangoes (soaked in yogurt the day before and left to soak)
400g unsweetened yogurt 
1 cup of glutinous rice (soaked overnight the day before)
1/2 cup of coconut milk
2 to 3 tbsp of sugar 
A pinch of salt
Mint leaves or other garnish
*Coconut cream
1/2 cup of coconut milk
1 tsp of cornstarch or potato starch
Place all ingredients in a saucepan and heat over low heat until thickened.
[Directions]
Soak the sliced dried mangoes in unsweetened yogurt overnight and set aside.
Pull the dried mangoes out of the yogurt and drain.
Cut the dried mangoes that will later be placed between the glutinous rice into small pieces.
Place coconut milk, sugar, and salt in a saucepan and bring to a boil over medium-low heat. 
Put the steamed glutinous rice into 5 while it is still hot, mix everything together, cover with a lid and steam for 20 minutes.
Place the mango in the pressed sushi box, add glutinous rice and press on top.
Sprinkle the chopped mangoes on top of 7, top with glutinous rice and press again. Cool in the refrigerator.
Cut into 8 equal pieces and serve with coconut cream or yogurt, if desired.
Yamaichi's Pressed Sushi Box
https://www.shokunin.com/en/yamaichi/oshi.html
Yamaichi's Chinese Seiro
https://www.shokunin.com/en/yamaichi/seiro.html
Kiya's Steamer Cloth S
https://www.shokunin.com/en/kiya/fukashi.html
Koishiwara ware's Hakeme Sansunzara
https://www.shokunin.com/en/koishiwara/mame.html
Koizumi Glass's Flat Bottom Evaporating Dish 60mm
https://www.shokunin.com/en/koizumi/johatsu.html
Reference
https://www.travel.co.jp/guide/article/43424/