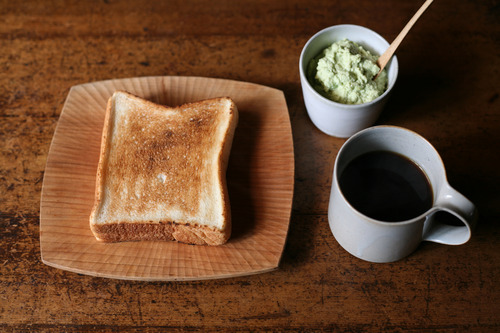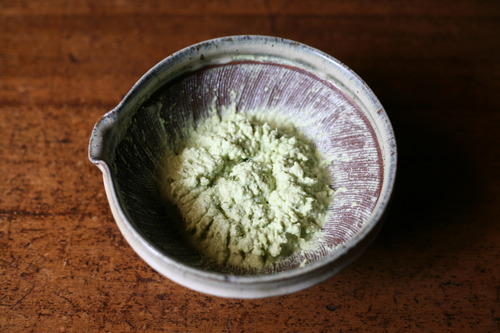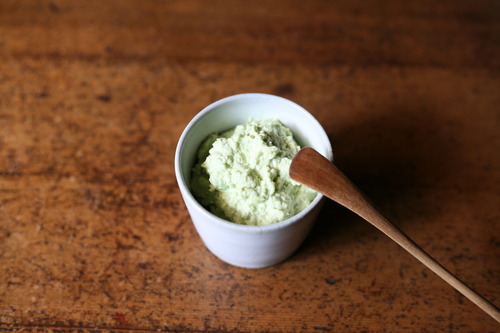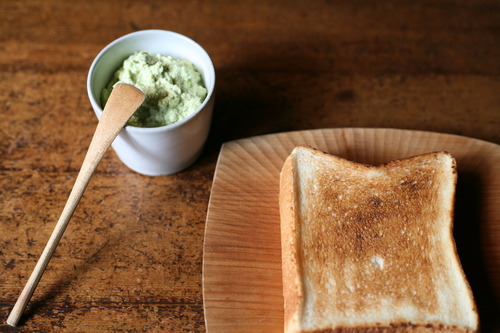 [Avocado Cream]
We would like to introduce you the cool avocado cream that is perfect for summer.
The light green cream tastes and smells as fresh as it looks. A squeeze of lemon juice prevents the avocado from discoloring and adds even more freshness to the flavor. The resulting cream can be served in the Sobachoko, with the Jam Spoon, on bread.
Okubo House Mokkosha's Bread Plate shown in the photo is a dish that prevents bread from steaming. By planing toward the center, the bread hits the plate at a point rather than a surface, allowing steam to escape. The very popular bread plate, which allows you to enjoy your bread to the very end, is currently in stock.
Avocado Cream - 2 servings
*Ingredients
1 ripe avocado
1/2 lemon
1/4 onion
50ml fresh cream
A pinch of salt
Parsley of adequate dose (if available)
*Directions
Remove the skin and seeds from the avocado and place in a mortar. When it becomes a paste, add the lemon juice. Grate the onions. Add the onion to the first mixture. Cut the lemon zest after squeezing the juice into thin slices and chop. Add the cream and chopped lemon zest to the paste. Mix and season with salt to taste. Sprinkle with parsley, if desired.
Okubo House Mokkosha's Bread Plate
https://www.shokunin.com/en/okubo/pan.html
Okubo House Mokkosha's Jam Spoon
https://www.shokunin.com/en/okubo/jam.html
Seiryugama's Soba Set
https://www.shokunin.com/en/seiryu/soba.html
Yamatada Katoen's JUJU mortier Mortar
https://www.shokunin.com/en/yamatada/suribachi.html
Ceramic Japan's Moderato
https://www.shokunin.com/en/ceramicjapan/moderato.html
Reference
https://www.cuisineaz.com/recettes/creme-d-avocat-13684.aspx