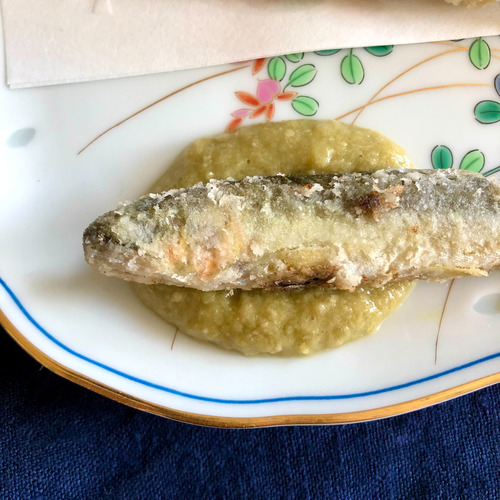 [Seasonal Food]
We found some natural young sweetfish from Lake Biwa at Miyake Suisan in the Tsukiji Outdoor Market.
Although Tsukiji has a strong image of being a place where professionals do their purchasing, nowadays even ordinary customers can easily get their hands on fresh food. The dull-eyed young sweetfish was so fresh that it looked like it was about to swim out of the water, and the price was really affordable, probably because it was in season.
Miyake Suisan is one of the best fresh fish stores in Tsukiji, as they deliver to the Kanto area, where you can buy fish so delicious that you can't help but appreciate it every time you taste it.
Young sweetfish cooked with Rikucho Ogasawara's Mini Pan and Fish Pan were sweet and tasty, even the liver, probably because you can quickly bake the powedered ingredient and then heat it directly on the table with the lid on.
We realized how convenient it is to have an iron pot with a lid, as it allows us to cook smelt and other foods fluffily.
Rikucho Ogasawara's Mini Pan
https://www.shokunin.com/en/rikucho/minipan.html
Rikucho Ogasawara's Fish Pan
https://www.shokunin.com/en/rikucho/fishpan.html
Miyake Suisan
https://goo.gl/maps/LAEqAKrwfTjvsPJ78