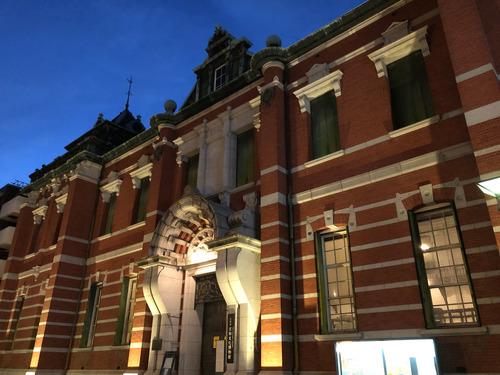 The Museum of Kyoto was opened in 1988 to commemorate the 1200th anniversary of the founding of the Heian Capital as a comprehensive cultural facility that introduces the history and culture of Kyoto in an easy-to-understand manner.
The red brick annex is the former Kyoto branch of the Bank of Japan, which was designated as an important cultural property as a modern Western-style building representative of the Meiji era. The former vault is now a coffee shop, where you can take a break in a retro atmosphere.
In addition to exhibits of arts and crafts by Japanese-style painters, Western-style painters, sculptors, and craftsmen associated with Kyoto, there are also materials related to Kyoto's traditional festivals.
After learning about Kyoto, you can spend a full day visiting Japanese restaurants and stores selling Kyoto's finest products. On the first floor on the north side of the annex is the "Roji Shop," a reproduction of a traditional Kyoto townhouse where you can take your time to explore Kyoto's gourmet food and souvenirs.
There are many places to see in Kyoto, but sometimes it is good to relax and experience traditional culture in a quiet space. Please visit the Museum of Kyoto on your days off, as it has a lot to offer. In that case, please come to our Sanjo Showroom, just around the corner!
Sanjo Showroom
https://www.shokunin.com/en/showroom/sanjo.html
6SHiKi's Messenger Bag
https://www.shokunin.com/en/6shiki/messenger.html
Okai Mafu Shoten's Handwoven Linen Handkerchief
https://www.shokunin.com/en/okai/handkerchief.html
References
https://www.bunpaku.or.jp/about_us/
https://www.artagenda.jp/museum/detail/329
https://souda-kyoto.jp/guide/spot/bunpaku.html
https://www.travelbook.co.jp/topic/18743
https://rtrp.jp/articles/113844/#25850801
https://ja.wikipedia.org/wiki/%E4%BA%AC%E9%83%BD%E6%96%87%E5%8C%96%E5%8D%9A%E7%89%A9%E9%A4%A8