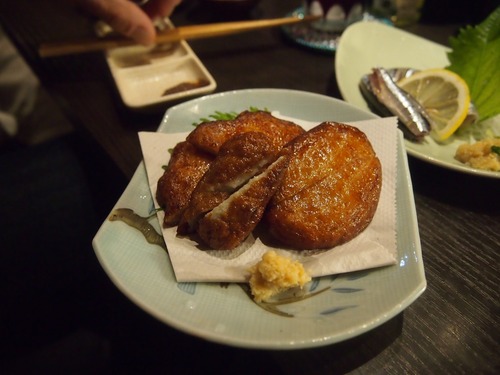 Satsuma-age, a specialty of Kagoshima Prefecture, is made by adding local sake and seasonings to fish paste and deep-frying it in rapeseed oil. Because it contains high quality protein and fat, it is one of the foods that are attracting attention in the health boom.
According to one theory, Shimazu Nariakira, the 28th lord of the Satsuma clan, who was deepening exchanges with Okinawa, then known as Ryukyu, added the Chinese frying technique introduced to Ryukyu to the traditional fish cake making process to create the current Satsuma-age.
Once the fish has been minced, seasonings such as sugar and salt are added to it, then fried in vegetable oil. Some are wrapped with vegetables, condiments, squid, octopus, or baby sardines, and there are many varieties to choose from. You may also use wasabi paste, mustard paste, soy sauce, or mayonnaise if you like.
Another feature is that the name of the food can vary greatly from region to region, and it can be the name of another food, so be careful when orderingin Japan. When you make satsuma-age at home, please use our useful cooking products by all means.
Azmaya's Cutting Board
https://www.shokunin.com/en/azmaya/manaita.html
Nakamura Douki's Tempura Pot
https://www.shokunin.com/en/nakamuradouki/tempura.html
FD Style's Frying Pan
https://www.shokunin.com/en/fdstyle/fryingpan.html
Noda Horo's Enamel Preservation Container
https://www.shokunin.com/en/noda/
References
http://www.kagonma.co.jp/sub7.htm
https://tsurinews.jp/44806/
https://www.olive-hitomawashi.com/column/2018/06/post-1638.html
https://www.arimuraya.co.jp/history.htm
https://magokoro-care-shoku.com/column/origin-of-satsuma-age/