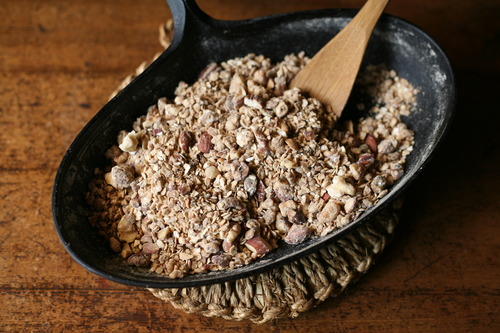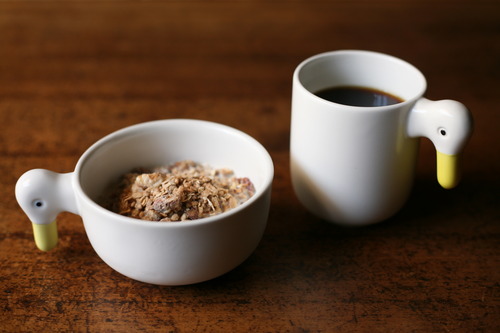 [Homemade Granola]
The refreshing sunny weather during the rainy season inspired me to make crunchy granola by hand.
When frying with Rikucho Ogasawara's Fish Pan, which is narrow in length and long in width, I like to combine them with Okubo House Mokkosha's Cooking Spoon, which is small and easy to use.
Served in Ceramic Japan's Duck Bowl with a unique expression, and topped with a generous amount of milk or soy milk, it is perfect for breakfast or brunch.
The great thing about homemade granola is that you can reduce the sweetness and arrange it to your liking. Why not combine it with your favorite nuts and dried fruits to make your own granola?
[Ingredients]
100g oatmeal
85g mixed nuts
65g flour
65g maple syrup
50g plant oil (3 tablespoons)
35ml pure soy milk
50g dried fruit
[Directions]
Place the mixed nuts in an ungreased pan and dry roast over medium-low heat until fragrant and lightly browned. Remove from the heat and chop them. Put oatmeal, mixed nuts, and flour in a bowl and mix until evenly distributed. Put 2. in a frying pan and fry for about 5 minutes, stirring, then turn off the heat and add the pre-mixed maple syrup, plant oil, and pure soy milk. Mix well and cook over low heat until light brown in color, skimming off any moisture. When cooled, add dried fruits or other ingredients as desired. You may store in an airtight container in the refrigerator for about a week, or in the freezer for about a month.
Rikucho Ogasawara's Fish Pan
https://www.shokunin.com/en/rikucho/fishpan.html
Okubo House Mokkosha's Cooking Spoon
https://www.shokunin.com/en/okubo/saji.html
Ceramic Japan's Duck Bowl S
https://www.shokunin.com/en/ceramicjapan/ahiru.html
References:
https://recipe.cuoca.com/pc/index.php?cmd=rcpd01_pc&id=3034
https://oceans-nadia.com/user/10641/recipe/146498