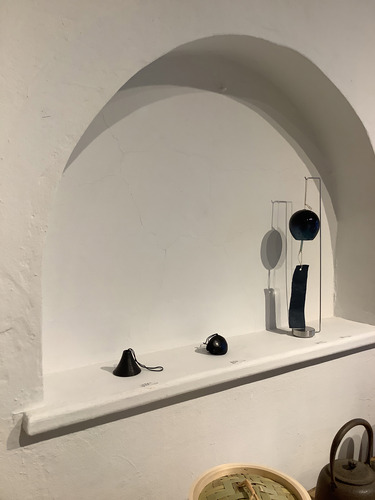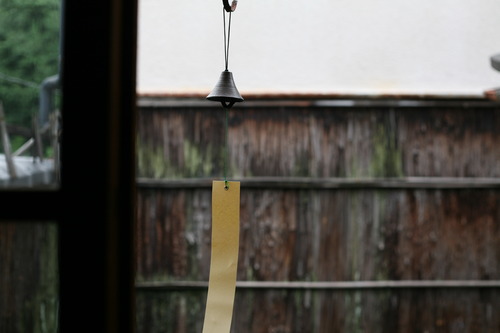 [Feel the Wind with Sound: Nanbu Wind Bell]
As you step into our Ginza Showroom, Kasa and Kai of the newly introduced Nanbu Wind Bell stand out against the white walls, shining in black. These wind bells are made of Nanbu Ironware by Rikucho Ogasawara, a casting artist from Mizusawa, Iwate Prefecture.
Despite its massive appearance, the sound of Kasa is light and clear, while Kai has a rounded and comfortable sound. Both of them make one want to wait for the wind to blow.
In the past, in China, wind chimes, the origin of modern wind bells, were also used for fortune-telling based on the direction of the wind and the way they sounded. In Japan, this wind chime was introduced with Buddhism, and was used as a talisman and a charm to ward off evil.
Wind bells, which we are familiar with, have been used to create a cool atmosphere, but nowadays we are completely immersed in air conditioning and rarely spend the summer with the windows open. Why not enjoy the sound of wind bells from this time of the year, when the weather is refreshing and you want to open the windows?
Rikucho Ogasawara's Nambu Wind Bell
https://www.shokunin.com/en/rikucho/furin.html
Touch Classic's Wind Bell
https://www.shokunin.com/en/touchclassic/furin.html
Ginza Showroom (Open from 9:00-18:00 on Friday, Saturday, Sunday, and Monday)
https://www.shokunin.com/en/showroom/ginza.html
Reference:
https://www.creema.jp/blog/589/detail