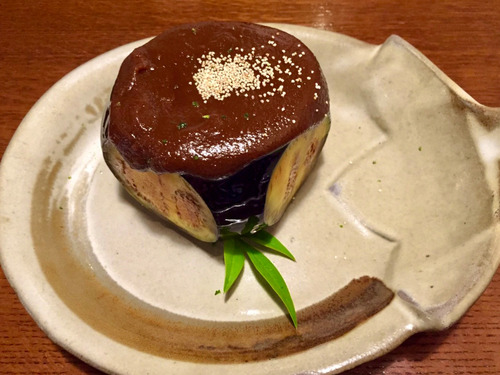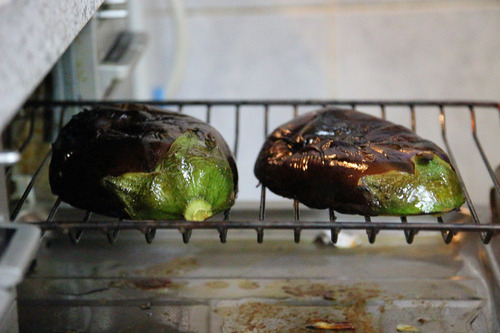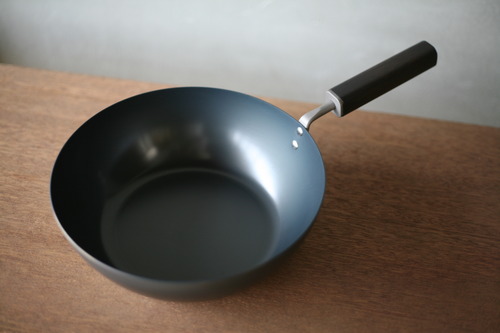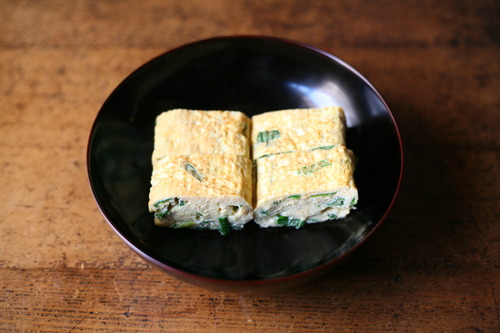 Kamo eggplant is a kind of round eggplant with a round shape that is cultivated mainly in Kamigamo, Kita-ku, Kyoto City, an area also famous for Kamigamo Shrine, and which has been certified as one of the "Traditional Vegetables of Kyoto." The harvest season of kamo eggplant is from early May to early autumn.
Its flesh is dense, firm, and crunchy, and is resistant to crumbling even when cooked, but when eaten, it crumbles smoothly and has a deep, rich flavor. The dense flesh also absorbs less oil than ordinary eggplants, so even when fried in oil, it does not become soggy, but has a firm texture.
On the other hand, however, kamo eggplants are prone to bruising just by touching the leaves in the wind, and if the timing of watering and draining is not correct, the surface color and luster will become blurred. In addition, the leaves are so large that the fruit color becomes lighter in the shaded areas, so leaf picking is essential. Therefore, it is very labor intensive to cultivate.
"Kamo eggplant dengaku" is a local dish in Kyoto that is made by cutting the "kamo eggplant" in half, deep-frying it in oil, and covering it with a mixture of miso, mirin, sugar, and sake. When making it, soak them in water as soon as they are cut.
You can make it with white miso, which is representative of Kyoto, or you can use red miso. If you prepare both, you will be able to enjoy the different flavors. You can also enjoy the savory flavor of miso by lightly browning the top after coating it with miso. It is also popular to add accents of taste and texture by sprinkling tree buds, sesame seeds, or poppy seeds.
In addition to dengaku, kamo eggplant is often grilled with miso sauce as well. If you are interested in preparing the traditional food, please have a look at the various kitchen tools we offer on our online page.
Tadafusa's All-Purpose Knife
https://www.shokunin.com/en/tadafusa/houchou.html
Azmaya's Cutting Board
https://www.shokunin.com/en/azmaya/manaita.html
FD Style's Frying Pan
https://www.shokunin.com/en/fdstyle/fryingpan.html
MokuNeji's Pot
https://www.shokunin.com/en/mokuneji/pot.html
Appi Urushi Studio's Flat Bowl
https://www.shokunin.com/en/appi/bowl.html
References:
https://www.maff.go.jp/j/keikaku/syokubunka/k_ryouri/search_menu/menu/kamonasunodengaku_kyoto.html
https://foodslink.jp/syokuzaihyakka/syun/vegitable/nasu-kamo.htm
https://kyoudo.kankoujp.com/?p=122