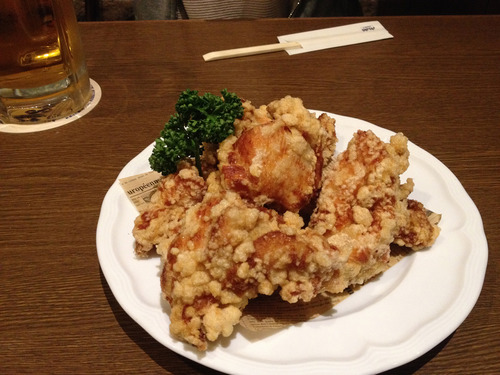 It is no exaggeration to say that tori no karaage (deep-fried chicken) is now a national dish in Japan, and it is a popular menu item available at various places, including izakayas, bento shops, teishoku-ya, convenience stores, and sometimes even ramen and soba noodle shops.
According to one theory, the first karaage in Japan was eaten in Imabari City in Ehime Prefecture, and it is said that pheasants from Mount Chikami were fried about 300 years ago. The modern "karaage" appeared on restaurant menus in around 1932, beginning at "Shokudo Mikasa," the predecessor of the current Mikasa Kaikan.
Deep-fried chicken is unique to Japan. Under the policy of increasing the number of poultry farms in preparation for the food shortage after the war, various delicious ways of eating chicken were developed, and deep-fried chicken became widely available. Oita Prefecture, the birthplace of fried chicken, had the largest number of poultry farms. Today, it is a fiercely competitive area with many karaage specialty stores throughout the town, and every evening, there are many people buying karaage for their families in kilos.
In a nutshell, no two karaage are exactly the same, and it could be categorized roughly into three types: authentic, home style, and snack. Authentic karaage is the type of karaage served at karaage specialty stores and restaurants, where a single piece of meat is cut into large pieces and deep fried, seasoning of which is very particular with garlic and soy sauce. Home style karaage are those available at supermarkets and department stores, garlic of which is weak and the ginger is strong. Lastly, snack karaage are one-handed fried chicken sold in convenience stores, and have become popular because of the variety of flavors and way of eating.
As the freedom of eating expands, so does the variety of deep-fried chicken, but it will surely continue to maintain its unchallenged position as the number one popular side dish. If you are interested in preparing karaage at home, please have a look at our useful bowls, pots, and containers available online.
Sori Yanagi's Stainless Steel Bowl
https://www.shokunin.com/en/yanagisori/bowl.html
Nakamura Douki's Tempura Pot
https://www.shokunin.com/en/nakamuradouki/tempura.html
Noda Horo's Enamel Preservation Container
https://www.shokunin.com/en/noda/
References:
https://www.nipponham.co.jp/recipes/meat/zoomup/karaage/04.html
https://karaage.ne.jp/whats/2011/01/karaage-rekishi.html
http://rakurakutei.net/info05/
https://ja.wikipedia.org/wiki/%E3%81%8B%E3%82%89%E6%8F%9A%E3%81%92