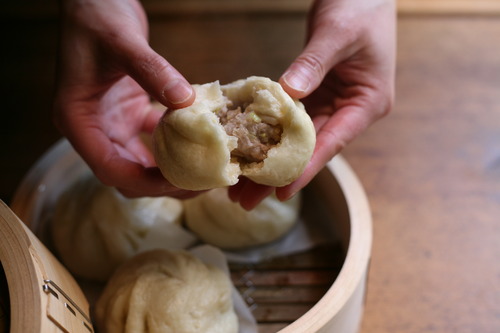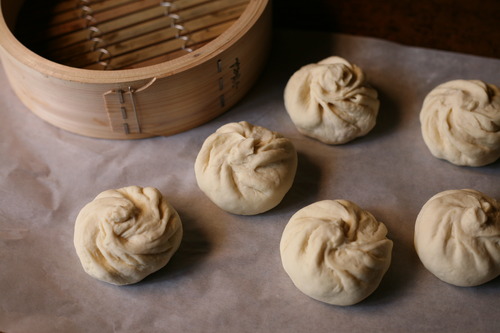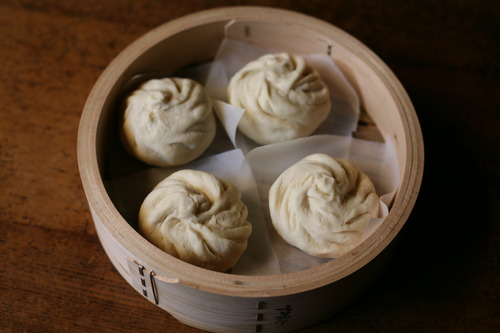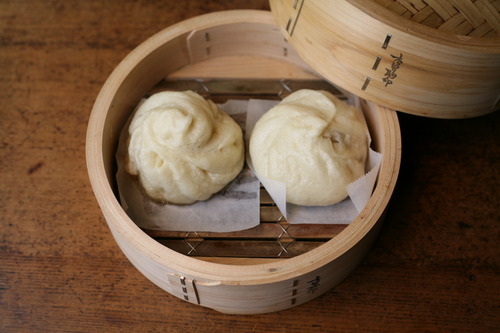 [Handmade Steamed Meat Buns in Chinese Seiro]
Ever since I bought the Chinese Seiro, I've always wanted to make homemade meat buns. There are many ways to make meat buns on YouTube, but this time I tried to make simple meat buns using mainly pork and green onions.
After wrapping the well-kneaded red bean paste in the carefully made dough, place it on the Chinese Seiro, heat it from water, steam it for 10 minutes after it boils, turn off the heat, and steam it in the residual heat for 5 minutes. The skin is chewy and elastic, and the juices overflowing from the meat are full of flavor and very juicy.
Wrapping the red bean paste was difficult, and although I struggled, when I finished eating, I was already thinking about what kind of filling I could use next time. With the Golden Week vacation coming up soon, how about making meat buns at home?
[Ingredients: 6 meat buns]
(Dough)
200g light brown flour
About 105g lukewarm water
2g dry yeast
2.5g sugar
(Ingredients)
200g pork (chunks)
1.5 tbsp dark soy sauce
1/2 teaspoon sugar
1 teaspoon grated ginger
1 teaspoon oyster sauce
A pinch of pepper
A pinch of salt
20g spice water (10 Sichuan pepper, 1 star anise, 20g boiling water)
1/2 tbsp sesame oil
1/2 tbsp vegetable oil
20 g spring onion (white part)
[Directions]
Step 1: Dissolve dry yeast in lukewarm water a little at a time.
Step 2: Put flour, sugar and Step 1 into a bowl and knead well with your hands.
Step 3: Cover with a lid and let it sit for 5 minutes.
Step 4: Knead more firmly until the dough is fine.
Step 5: Ferment the dough at room temperature for 20 to 40 minutes, until it doubles in size. Cover with a wet cloth to keep the dough from drying out.
Step 6: Chop the pork (chunks) into small pieces (or put them in a blender).
Step 7: Mix Sichuan pepper and star anise with boiling water and transfer the aroma to the hot water.
Step 8: Mix the chopped meat with soy sauce, oyster sauce, grated ginger, pepper, salt, and sugar, then add the spice-scented water to the mixture.
Step 9: Add sesame oil and oil, and mix further. Finally, add the chopped green onions, mix, and let it rest in the refrigerator.
Step 10: After the dough has finished fermenting, flour it and roll it out into a stick.
Step 11: Make 6 pieces of 50g. Cover with plastic wrap to keep them from drying out.
Step 12: Roll each piece out to 11cm with a rolling pin and shape the center to be slightly thicker.
Step 13: Put 45g of red bean paste into the dough and wrap it, making folds. Place on a cooking sheet cut into small pieces and let them rest at room temperature for 10 minutes.
Step 14: Place the buns in the Chinese Seiro and start steaming from cold water over high heat. Steam for 10 minutes after the steam starts to come out.
Step 15: Turn off the heat and let it steam on residual heat for 5 minutes.
Yamaichi's Chinese Seiro
https://www.shokunin.com/en/yamaichi/seiro.html
Nakamura Douki's Dantsuki Pot
https://www.shokunin.com/en/nakamuradouki/seiro.html#dan
Reference:
https://www.youtube.com/watch?v=0RaGaZbgXog