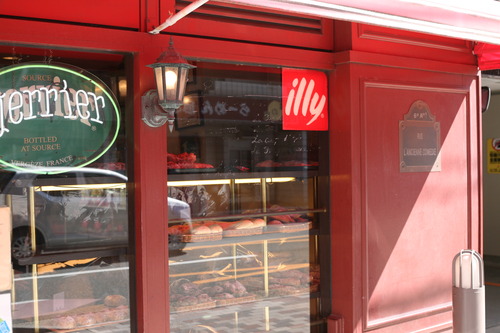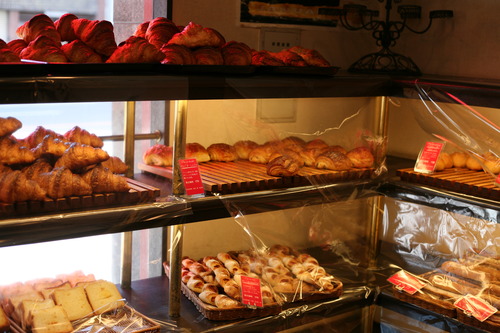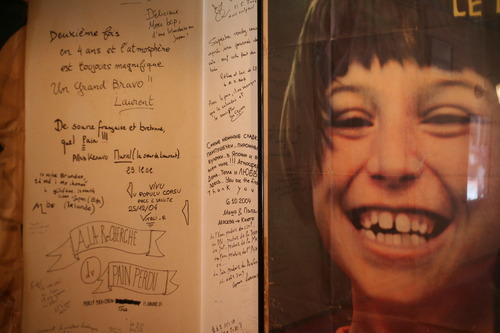 ["Le Petit Mec," Love for France Overflowing from Its Bread]
When it comes to popular bakeries in the Imadegawa area of Kyoto City, we're sure many people would mention Le Petit Mec. The bakery is an authentic French-style bakery located near Imadegawa Omiya, east of Kitano Tenmangu Shrine. The bread made by skilled artisans who are full of love for France and select safe and secure ingredients has been highly evaluated by visiting French bakers and chefs as "the most French" bread in Japan.
On Fridays, Saturdays, Sundays, and holidays, when the store is open, customers come from near and far to enjoy the freshly baked bread. The store is all in red, from the exterior to the tablecloths, sofas, and even the cards with descriptions of the bread. This is why the locals nicknamed it "Red Mec." There is also an eat-in area where you can eat your purchased bread inside. You can also have large loaves of bread cut into small pieces for easy eating.
We recommend the croissants, which are so popular that some people buy them in piles on trays to take home. The moist texture and exquisite sweetness will make you want to make a repeat purchase every time you visit the store. This time, in addition to the croissant, we chose the Milk French with Rum Raisins and the Provence-Style Chicken. Illy's espresso-based bittersweet coffee enhances the taste of the bread.
Le Petit Mec has stores in Hibiya, Tokyo, and Shinsaibashi, Osaka, in addition to Kyoto City, where you can find the same delicious bread as at the main store. Be sure to try the authentic French style bread from Kyoto.
Le Petit Mec
https://lepetitmec.com/
Imadegawa Showroom (Open from 14:00-17:00 on Tuesday, Wednesday, and Thursday)
https://www.shokunin.com/en/showroom/imadegawa.html