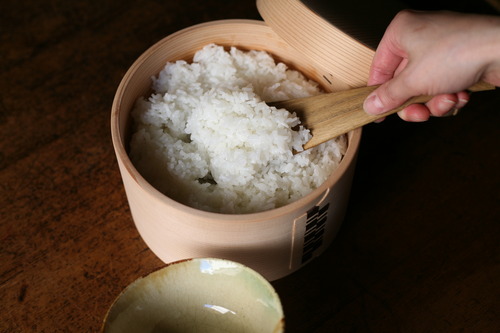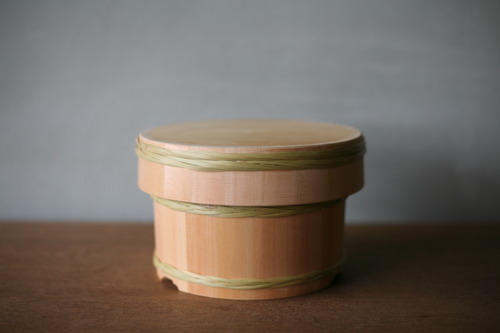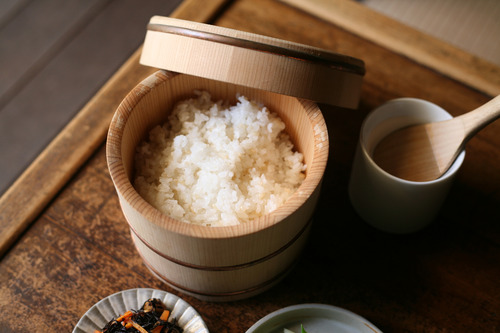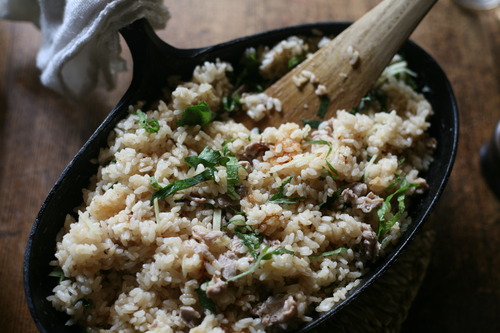 Ohitsu is a traditional Japanese container for transferring rice cooked in a rice cooker or pot. Wooden ones are the most common, but ceramic ones are also popular.
In the past, when cooking rice in an iron pot was the mainstream method, rice was cooked once a day or every two days, which required time and effort. Rice cooked in an iron pot is fluffy and hot at the beginning, but it soon burns and becomes hard. For this reason, it was transferred to the ohitsu to store it, which also had the advantage of being easy to carry around. Iron pots for rice was introduced in the Edo period, but the history of ohitsu is even older, dating back to the Heian period.
The rice transferred to the ohitsu will not dry out, so it can be served fluffy for a long time. It never becomes sticky in texture, so it tastes good even when it is cold. It is said that they can be enjoyed for about 12 hours.
These days, with the spread of electric rice cookers, ohitsu may not be used as commonly as it was in the past, but it is not just for storing rice, but have the added benefit of making the rice taste better. Wooden ohitsu serves the purpose of removing the coarse heat from the cooked rice and making it flavorful. The ohitsu absorbs excess water and keeps the humidity inside constant, while giving off a soft woody scent.
Ohitsu is not only for storing rice. In the summer, you can fill it with water and use it as a bowl of somen noodles for a cool look, or use it as a sushi tub for chirashi-sushi or temakizushi. The variety of its uses is one of the charms of the ohitsu.
We carry a variety of ohitsu, including ohitsu made from Kiso Sawara, which has excellent water resistance, and ohitsu made from Akita Cedar, which has sterilizing properties. We hope you will try our beautiful and functional ohitsu.
Kurikyu's Magewappa Ohitsu
https://www.shokunin.com/en/kurikyu/ohitsu.html
Yamaichi's Taketaga Ohitsu
https://www.shokunin.com/en/yamaichi/ohitsu.html
Azmaya's Ohitsu
https://www.shokunin.com/en/azmaya/ohitsu.html
Rikucho Ogasawara's Fish Pan
https://www.shokunin.com/en/rikucho/fishpan.html
References:
https://kinarino.jp/cat2-%E7%94%9F%E6%B4%BB%E9%9B%91%E8%B2%A8/38218-
https://www.olive-hitomawashi.com/column/2017/10/post-548.html
https://kinarino.jp/cat2-%E7%94%9F%E6%B4%BB%E9%9B%91%E8%B2%A8/36344-