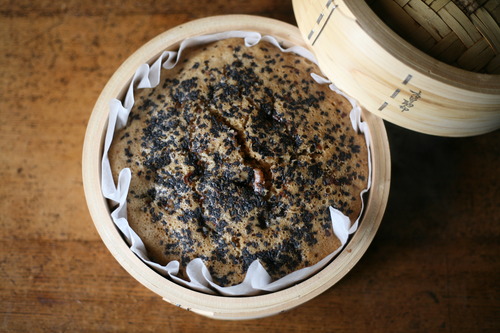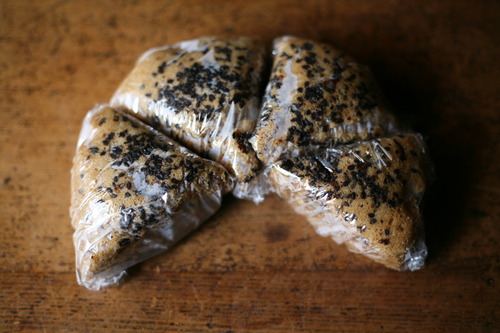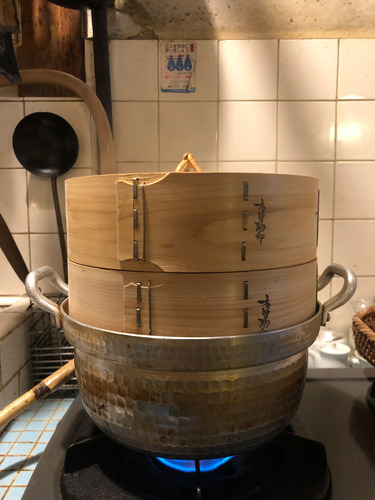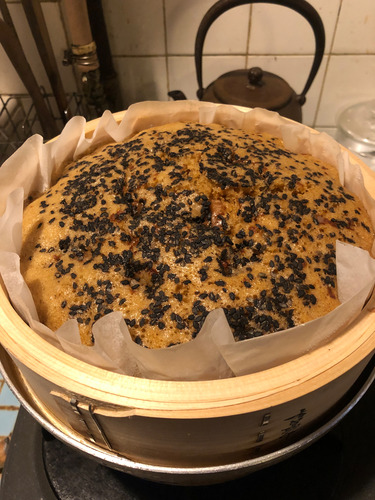 [Ganzuki, an Old-Fashioned Confectionery in Tohoku Region]
Ganzuki is an old-fashioned local snack served mainly on the Pacific side of the Tohoku region, such as Iwate and Miyagi prefectures.
Made of flour and brown sugar, puffed up with baking soda and vinegar, and steamed with black sesame seeds and walnuts, ganzuki is sometimes flavored with soy sauce or miso, and each family has its own unique recipe.
There are many theories about the origin of the name "ganzuki," such as that the sesame seeds and walnuts sprinkled on the dough, which is round like a full moon, resemble a geese (gan) flying against the moon (tsuki), or that it looks like a goose meat. There is also a kind of ganzuki that looks like sweet rice jelly, made by steaming wheat flour with white sugar and water, without brown sugar.
Both have been popular as standard confectionery and souvenirs for celebrations, between farm work, and as snacks for children. It is not uncommon to see ganzuki wrapped in plastic wrap being sold in supermarkets and private stores in the Tohoku region.
This time, I used Yamaichi's Chinese Seiro to make a ganzuki with a diameter of about 20cm. The heavy, chewy ganzuki is moist and delicious even after it cools down. Of course, you can also reheat it using the Chinese Seiro.
We hope you will try making ganzuki, a traditional Tohoku snack, at home.
Yamaichi's Chinese Seiro
https://www.shokunin.com/en/yamaichi/seiro.html
Nakamura Douki's Dantsuki Pot
https://www.shokunin.com/en/nakamuradouki/seiro.html#dan
References:
https://japan-web-magazine.com/japanese/iwate/ganzuki/index.html
https://i-k-i.jp/2409
https://oceans-nadia.com/user/22477/recipe/138097
(recipe)