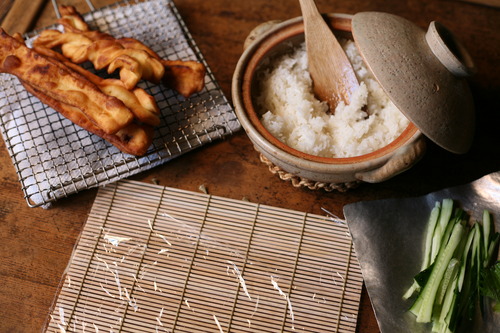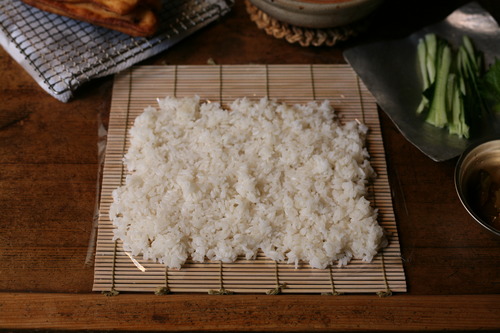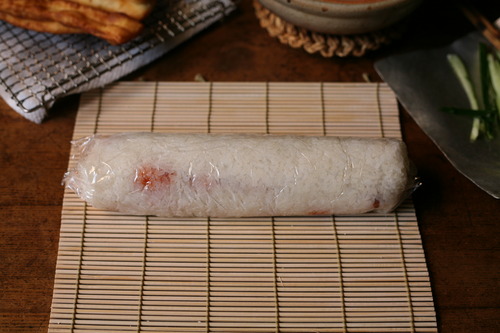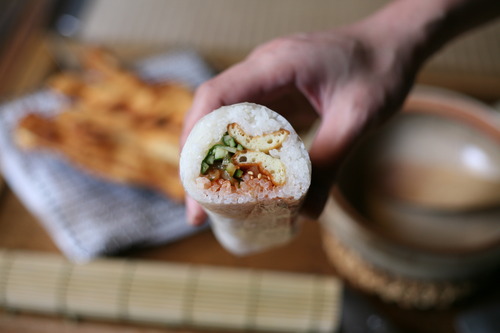 We made "Shanghai-style rice balls," which a staff member from Zhejiang Province, China, taught us.
We always heard that Chinese rice balls with fried bread as the filling were delicious, and we wanted to try them someday, but we never had a chance to try them in Japan or even on our travels until now.
We started by making fried bread today, following an online recipe we was given. The fragrant aroma of freshly fried bread stimulated our appetite. After sprinkling roasted sesame seeds on cooked rice, spread it on a sushi roll lined with plastic wrap, top it with ingredients such as fried bread, cucumber, Chinese pickles, and shiso leaves, pour tomato ketchup and homemade chili oil on it, and then roll it up tightly with the plastic wrap.
When you remove the sushi roll and cut it in half, the combination of the chunky rice and the crispy texture of the oil strips makes it twice as tasty in one bite, and it goes well with ketchup and chili oil. It is recommended for both breakfast and lunch. Please give it a try!
"Recipe for Shanghai-style rice balls"
[Ingredients (for 1 piece)]
1 piece of fried bread
1 cup of rice (half white and half glutinous rice)
Half a cucumber
Chinese pickles 
Tomato ketchup
Salt
Chili oil 
Roasted sesame seeds
Shiso leaves
[How to make]
Prepare the fried bread.
Wash rice (white rice: glutinous rice = 1:1) and let it absorb water before cooking.
Fry sesame seeds until fragrant.
Sprinkle the sesame seeds over the cooked rice, mix well, and add a little salt.
Cut the cucumber into small pieces. Finely chop the Chinese pickles.
Line a sushi roll with plastic wrap, flatten out the rice, place the fried bread, cucumber, shiso leaves, Chinese pickles, and other ingredients, and pour on chili sauce and ketchup.
Roll up the rice using the sushi roll and cut it into two before eating.
Kiya's Sushimaki
https://www.shokunin.com/en/kiya/sushimaki.html
Video
https://www.youtube.com/watch?v=VWRB_zPHOLM
References:
https://www.sohu.com/a/432642658_120037476
https://www.youtube.com/watch?v=uRc3F6uwR3E