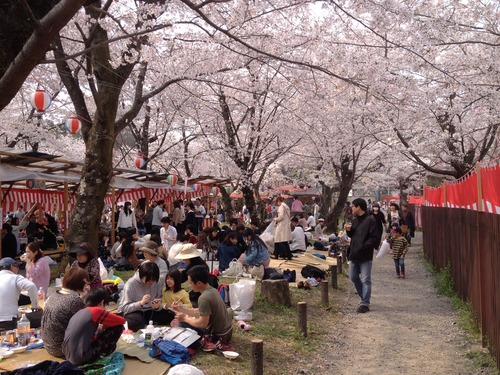 Hirano Shrine, established in 794 when the capital was moved to Kyoto, has been famous for its cherry blossoms since ancient times, and the "Cherry Blossom Festival (Oukasai)" is held every year on April 10 during the cherry blossom season, which is one of the most popular spring events in Kyoto that has occurred at the shrine since 985.
About 400 cherry trees of 50 different varieties are planted at Hirano Shrine. Because of the different varieties, the cherry blossoms can be enjoyed for a long time, from late March to early May. The "Sakigake" cherry blossoms, which originated from Hirano Shrine, are an early blooming variety, and it is said that when these cherry blossoms begin to bloom, cherry blossom viewing in Kyoto begins. In addition, Hirano has been famous for its "night cherry blossoms" since the Edo period, which are lit up at night to create a beautiful and enchanting night scene.
The origin of the Cherry Blossom Festival is said to be that Emperor Kazan went to Hirano Shrine to pray for the prosperity of his descendants, and held a temporary imperial festival. On this day, a procession of horsemen and weavers will appear, making the festival even more spectacular. At 10:00 a.m., a ceremony is held in front of the shrine, and at 11:00 a.m., another ceremony is held at Emperor Kazan's mausoleum. At 12:00 a.m., the portable shrine's procession is held, followed by a procession of about 200 people at 1:00 p.m. through the shrine area.
The cherry blossoms of Hirano Shrine have fascinated people since the Heian period, and we truly recommend that you visit the Cherry Blossom Festival if you come to Kyoto during the spring season. In that case, be sure to stop by our Sanjo Showroom, where you will find a beautiful selection of Japanese crafts.
Sanjo Showroom
https://www.shokunin.com/en/showroom/sanjo.html
References:
https://caede-kyoto.com/
http://www.e-kyoto.net/kankou/4/10
https://ja.kyoto.travel/event/single.php?event_id=2823
https://www.hiranojinja.com/home/gaiyo/nentyugyoji/okasai
https://www.discoverkyoto.com/event-calendar/april/oka-sai-hirano-shrine/
https://ja.wikipedia.org/wiki/%E5%B9%B3%E9%87%8E%E7%A5%9E%E7%A4%BE