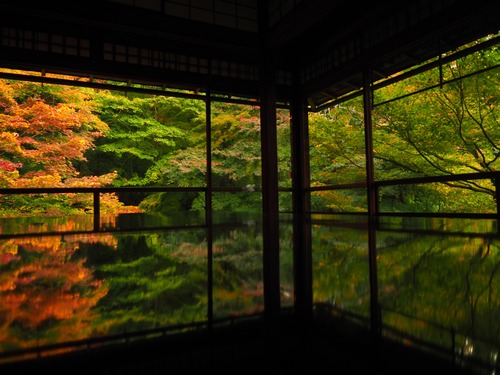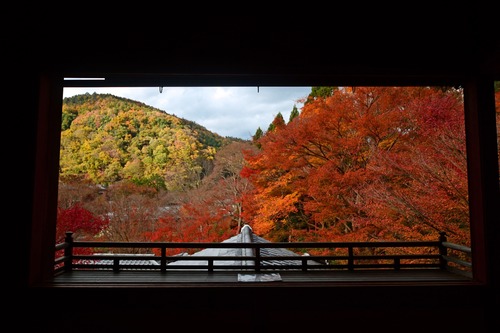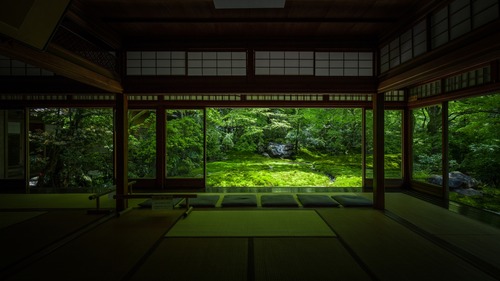 While the best time to see the red leaves is over in many places in Kyoto, the leaves in Rurikoin Temple are still about to be colored. The quiet temple in Yase, at the foot of Mount Hiei in Kyoto, is a special temple accessible only during the spring and autumn seasons. For this year, the site is open to tourists until December 20th.
The drawing room in Rurikoin was designed and constructed by Sotoji Nakamura, an artisan widely known as the expert of sukiya style buildings. In front of the drawing-room, there is the "Garden of Ruri," which was created by the family of Sano Touemon. The carpet of moss is so beautiful that it is often described to be "shining in ruri (ultramarine)." The scenery of the garden reflected on the tables and the floor in the drawing-room is truly fascinating as well.
Other than the Garden of Ruri, the "Garden of Yamaroji" and the "Garden of Garyo" are also unique and breathtaking, the latter depicting a dragon flying towards heaven using water and stones. The main gate to the temple is gorgeously decorated by the leaves that surround, and in the approach to Rurikoin, there are more than 100 types of red leaves that together create a wonderful atmosphere. You may also visit the antique restaurant "Kikakutei" or visit the "kamaburo (steam bath)" that is unique to Yase.
After enjoying the otherworldly panorama at the long-established temple, please visit our showroom in Sanjo Street on your way back. It locates inside Sacra Building, a modern architecture which formerly served for Fudo Chokin Bank and is also registered as the country's Tangible Cultural Property. You may have a look at the various pots for the winter season that we exhibit, as well as the items that are only available at this showroom. We are looking forward to your visit.
Rurikoin Temple
https://goo.gl/maps/8EXrrjBwPSspianU8
Shokunin.com Sanjo Showroom
https://www.shokunin.com/en/showroom/sanjo.html
References:
https://souda-kyoto.jp/travel/spot/spot.html?spot_seq=0001333
https://souda-kyoto.jp/travel/koyo/index.html?idk=0001333
http://things-to-do-in-kyoto.com/discoverkyoto/rurikoin-temple-the-place-with-the-best-view-in-kyoto/