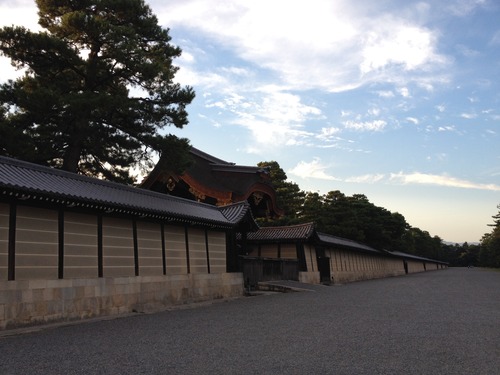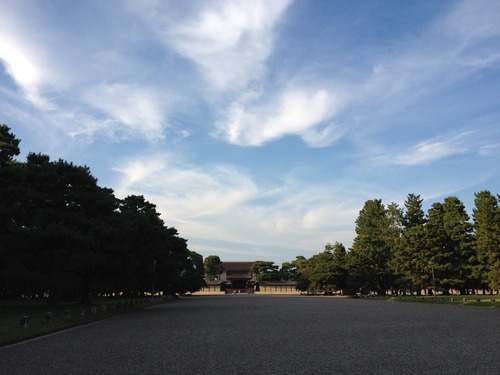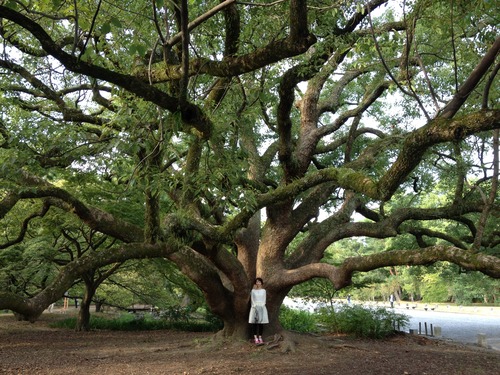 The Kyoto Imperial Palace is located at the center of Kyoto City and has been the center of economy and politics for around a thousand years, where successive generations of emperors have resided.
It was constructed in 794 when Emperor Kanmu relocated the capital to Kyoto. It burned down several times and was rebuilt by the person in authority at each time, including Oda Nobunaga and Toyotomi Hideyoshi. It was 110m in both width and length, but the site was expanded by Yoshimitsu Ashikaga in 1392, and it is today 254m in width and 453m in length. The palace is home to various buildings and gardens, including the Kyoto Gyoen national park and the Shishinden (a ceremonial building within the palace grounds), which are surrounded by a lot of beautiful nature that changes appearance throughout the year. The entire Kyoto Gyoen National Garden is about 700m east-west and about 1300m north-south.
Today, the site serves as a place for relaxation and refreshment for many Kyotoites, especially for university students at the neighboring Doshisha University. There are coffee shops within and around the imperial palace at which you may have a cup of tea or lunch. Historical temples and shrines, such as the Goou Shrine, Kosan-ji Temple, and Shokoku-ji Temple, as well as various memorial halls, including the Kinshi Masamune Memorial Museum in Horino and the Shimadzu Foundation Memorial Hall, can be found nearby the palace, so please pay a visit to these spots as well.
The Kyoto Imperial Palace, which has been the central hub of Japan for many years, is now a peaceful and calm place for many people. When you visit Kyoto Gyoen National Garden, you may want to bring with you some onigiris in a Kurikyu's Magewappa lunch box or sandwiches in a Matsuya Shikkiten's Shirakinuri lunch box to have a break at the park and enjoy the colorful nature and the traditional atmosphere.
Kurikyu's Magewappa Lunch Box
https://www.shokunin.com/en/kurikyu/mutosou.html
Matsuya Shikkiten's Shirakinuri Lunch Box
https://www.shokunin.com/en/matsuya/
References:
https://ja.travel-kyoto-maiko.com/traveltips/7172#_-8
https://travel.mar-ker.com/
京都御所