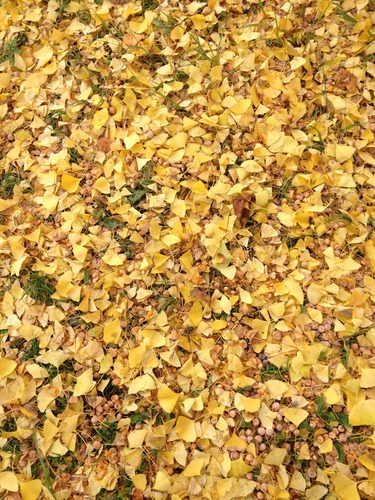 Ginnan refers to nuts of the ginkgo trees that turn gold during the autumn season. The ginkgo tree, which has existed for more than two hundred million years, hardly dies down and is easy to maintain. Its nut, covered in a hard shell, is bitter in taste, soft and flaky, and beautiful in color. It usually in season from September to mid-November, which is why it is cherished as a seasonal ingredient during autumn.
Ginnan has various health benefits, as it is low-calorie and rich in nutrition, containing vitamin E, B1, and potassium. In Japan, ginnan is usually eaten by simply burning it or by including it in egg custard. Ginnan roasted with salt is cherished as snacks for Japanese sake, while ginnan mixed with rice or put in ganmodoki, mixed-vegetable tempura, or other boiled foods, are often served in bento boxes as well. While people nowadays use the microwave to cook it, in which it should be carefully handled as its shell may explode, the traditional way using the frying pan is recommended as it produces a more fragrant scent and become more crispy.
At Shokunin.com, we offer various products, from frying pans to bento boxes, which would allow users to prepare autumn-like dishes using ginnan. Rikucho Ogasawara's mini pan would be perfect for serving ginnan to one or two persons, while FD style's frying pans could cook ginnans for multiple persons at once. Kurikyu's Magewappa lunch box, Matsuya Shikkiten's lunch box, and other beautiful bento boxes that would well suit ginnan dishes are available as well. Further, popular items such as Appi Urushi Studio's plates and bowls, Fresco's Kasumi Plates, and Koishiwara ware's plates and bowls are all perfect vessels with which you could serve your dishes. Please have a look at our homepage.
Rikucho Ogasawara's Mini Pan
https://www.shokunin.com/en/rikucho/minipan.html
FD Style's Frying Pan
https://www.shokunin.com/en/fdstyle/fryingpan.html
Kurikyu's Magewappa Lunch Box
https://www.shokunin.com/en/kurikyu/lunchbox.html
Matsuya Shikkiten's Shirakinuri Lunch Box
https://www.shokunin.com/en/matsuya/
Appi Urushi Studio's Plate/Bowl
https://www.shokunin.com/en/appi/bowl.html
Koishiwara Ware's Plate/Bowl
https://www.shokunin.com/en/koishiwara/mame.html
Fresco's Kasumi Plate
https://www.shokunin.com/en/fresco/kasumiplate.html
References:
https://macaro-ni.jp/33389
https://kurashi-no.jp/I0027368