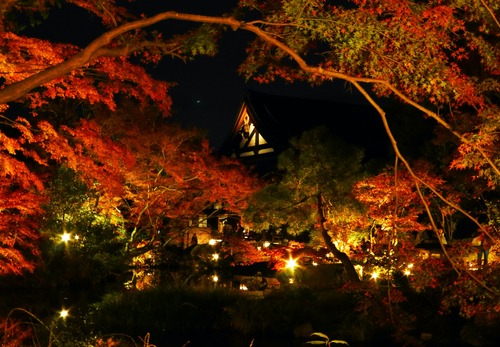 Among the many sites that are famous for beautiful autumn leaves, Konkai-Komyoji, a prestigious temple founded by Honen Shonin in 1175 and serving as the main temple of the Jodo sect, offers a splendid atmosphere during the autumn season.
The temple locates in Higashiyama, Kyoto, where famous temples such as Eikando, Honen-in, and Nanzenji are founded as well. Familiarly known as "Kurodani-san," the temple consists of outstanding wooden structures. The colossal two-story ceremonial gate at the entrance, built in 1860, has a strong presence, and the view from the second story is wonderful, as you get a full view of the city of Kyoto.
More attractive are the various trees that colorize the temple every season. The Yoshino cherry tree planted in front of the gate fully expresses the coming of spring, while autumn leaves that beautifully decorates the north and south side of the gate, as well as the garden, is absolutely gorgeous as well.
If you are interested in Konkai-Komyoji, we recommend you bring a book, not only to read under the beautiful autumn leaves but to put a fallen autumn leave inside your book and recall the experience afterward. SIWA's book cover would enhance your experience, so please consider it together.
SIWA's Book Cover
https://www.shokunin.com/en/siwa/bookcover.html
References:
https://www.kurodani.jp/
https://souda-kyoto.jp/tokusyu/autumn/2010/con_01.html