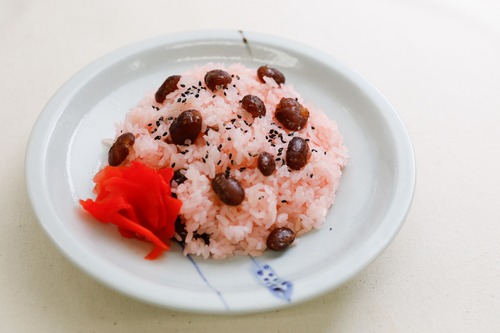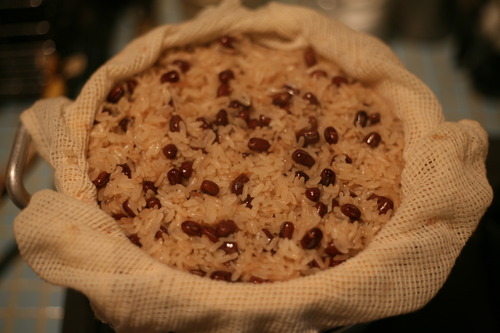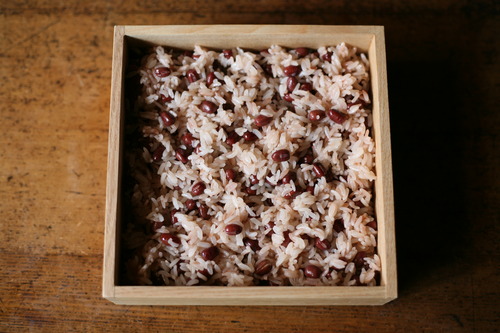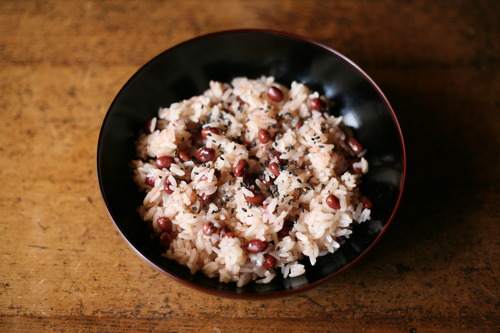 [Red Rice with Ama-Natto]
As we enter the second half of December, the end of the year is approaching. Many of you may be busy with full-scale preparations for the year-end and New Year holidays.
As the year comes to a close, Japan will celebrate New Year's Day and Coming-of-Age Day. We also have festive events such as Sekku (seasonal festivals), graduation, and entrance into school in the spring. Sekihan (red rice) is often served at such festive occasions. There are various theories as to how it came to be eaten on Hare no Hi, but in Japan, the color red has been thought to have the power to purge evil spirits since ancient times, and it is said to have come to be eaten to ward off evil spirits and avoid misfortune.
Generally, azuki beans or "sasage-mame" beans are used to make sekihan, but in Hokkaido, where the Otaru Showroom is located, sweet sekihan made with ama-natto (sweet natto) is often eaten. Convenience stores also sell "sekihan onigiri" (red rice balls) containing ama-natto.
Why did sekihan with ama-natto become popular in Hokkaido? Akiko Nambu, the founder of Koen Gakuen Educational Corporation, founded Nambu Apparel Institute in 1949 and was busy in running the school teaching western-style dressmaking, Japanese dressmaking, cooking, and general education. During those days, she wished to make sekihan more easily by using ama-natto instead of the time-consuming preparation of boiling azuki beans and sugar beans until soft, cooling them, and then cooking them with glutinous rice. She introduced this recipe at lectures and on TV cooking shows, and it became widely known among Hokkaido residents, eventually becoming the standard for sekihan in Hokkaido.
The beautiful pink color, sweet beans, and rice around the beans are slightly sweet and a little salty. Such rich flavor is probably the reason why it is widely loved by both children and adults.
If you are too busy to prepare sekihan, why don't you try Hokkaido's way of making ama-natto sekihan before you give up on making it? Packing it in a stacked box and arranging it on the dining table will add to the festive mood. It has a sweet and comforting taste that makes you want to eat it even on days other than the most important ones.
Yamaichi's Chinese Seiro
https://www.shokunin.com/en/yamaichi/seiro.html
Kiya's Steamer Cloth S
https://www.shokunin.com/en/kiya/fukashi.html
Matsuya Shikkiten's Shirakinuri Lunch Box
https://www.shokunin.com/en/matsuya/
Appi Urushi Studio's Flat Bowl
https://www.shokunin.com/en/appi/bowl.html
Otaru Showroom
https://www.shokunin.com/en/showroom/otaru.html
References
https://hokkaidofan.com/amanatto-sekihan/
https://www.maff.go.en/j/keikaku/syokubunka/k_ryouri/search_menu/menu/sekihan_hokkaido.html