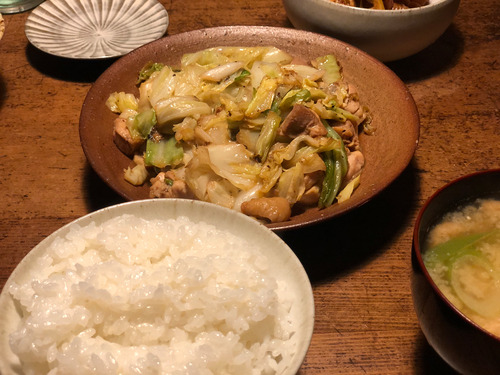 We had spring cabbage, so we searched for a recipe to stir-fry it, and an easy-looking recipe called "Simple Stir-Fried Cabbage" by Mr. Ryuta Kijima came up at the top of the list.
We had some chicken as well, so we fried it from the meat, added the spring cabbage, sprinkled salt, steamed it for 3 minutes, and lightly mixed it with soy sauce and black pepper. It goes very well with rice. Please give it a try.
Ichiyougama's Deep Plate shown in the photo will be restocked around mid-July.
Ichiyougama's Deep Plate
https://www.shokunin.com/en/ichiyou/deep.html
Recipe
https://www.kyounoryouri.jp/recipe/43538_%E3%81%A9%E3%82%B7%E3%83%B3%E3%83%97%E3%83%AB%E3%82%AD%E3%83%A3%E3%83%99%E3%83%84%E7%82%92%E3%82%81.html