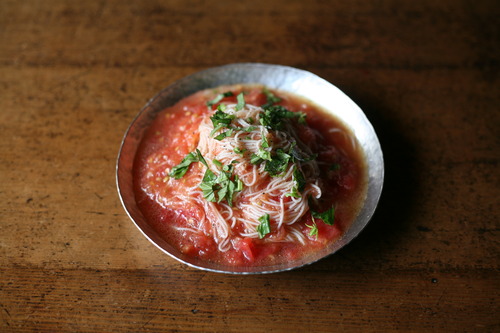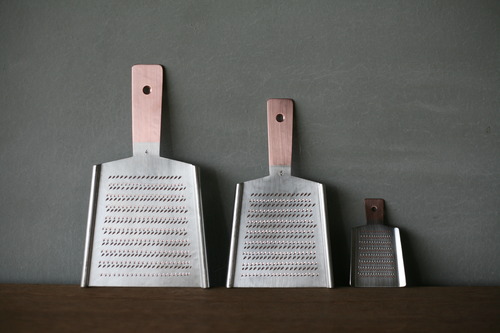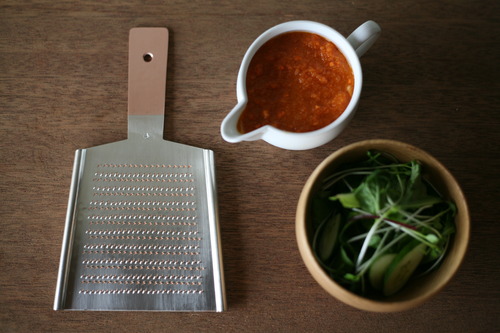 [Grated Tomato Somen Noodles]
Bright red tomatoes are a colorful vegetable that catches the eye in a corner of the supermarket. Tomatoes, which are susceptible to high temperatures and humidity, are said to be in their "season of flavor" from spring to early summer, when cool temperatures, moderate humidity, and strong sunlight are all favorable conditions.
How about grating such seasonal tomatoes raw and eating them with somen noodles, another versatile food that will be in season from now on? Choose tomatoes that are slightly firm, so they are easier to scrape and grate, and the fresh, popping tomato aroma will stimulate your appetite. Add olive oil, garlic, salt, sugar, and black pepper to the grated tomatoes, season to taste, refrigerate, then ice the cooked somen noodles and toss them in the cold tomato sauce. Toppings include finely chopped basil and black pepper. Both are excellent with tomatoes.
Oya Seisakusho's Copper Grater used to grate the tomatoes has irregular blades due to human handwork, which allows users to smoothly grind the tomato. The colors are vibrant, the flavors are alive, and the texture is exquisite.
Oya Seisakusho's Copper Grater
https://www.shokunin.com/en/oya
Otera Kohachiro Shoten's Kanamari M
https://www.shokunin.com/en/otera/kanamari.html
References
https://weathernews.jp/s/topics/202005/210155/
https://oliveoillife.jp/recipe/6269/
(Recipe)