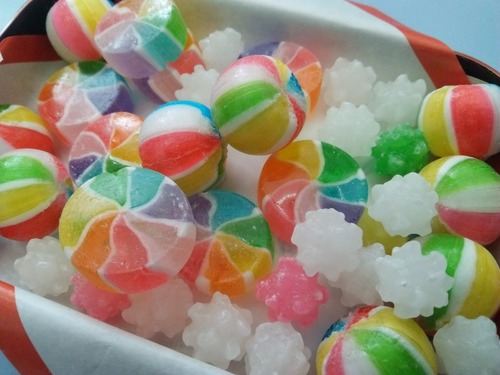 Kyoto has a wide variety of sweet souvenirs such as yatsuhashi and Ajarimochi, and it is hard to decide which one to buy. Among them, one of the most popular souvenirs in Kyoto is the traditional Kyoame, which looks cute and is easy to hand out to your friends.
Kyoame is a small, shiny and transparent looking candy with an elegant sweetness that spreads in the mouth. This colorful candy, registered as a regional collective trademark by the Kyoto Prefecture Confectionery Industry Association, is an excellent product that consumers can enjoy for its appearance and taste.
Candy is generally made from sugar and syrup, and the ratio of sugar to syrup is 50-50 in the general candy produced by major companies. On the other hand, Kyoame has more sugar than syrup, so it is harder to dissolve and lasts longer. Moreover, by boiling down the candy at high temperature using a technique unique to Kyoto, which is based on the technique of "ariheito," which was introduced from the South Sea Islands, it has a unique gloss and a refreshing taste despite the high percentage of sugar. In addition, the candy is kneaded to make it airy, which gives it a light and crispy texture when chewed.
Even today, the evolution of this candy is still ongoing, and products are being researched, developed, and manufactured with the use of gorgeous crafting techniques and the addition of local products.
You may serve it on Appi Urushi Studio's Flat Bowl for guests, or put it in Chanto's Container and enjoy it by yourself while teleworking. Anyone will be delighted by the cute appearance of Kyoame.
Appi Urushi Studio's Flat Bowl
https://www.shokunin.com/en/appi/bowl.html
Chanto's Container
https://www.shokunin.com/en/chanto/container.html
References
https://www.nikkei.com/article/DGXMZO44008480Q9A420C1AM1000/
https://www.jpo.go.jp/system/trademark/gaiyo/chidan/shoukai/ichiran/
http://www.the-brand-kyoto.jp/food/post_166.html.php