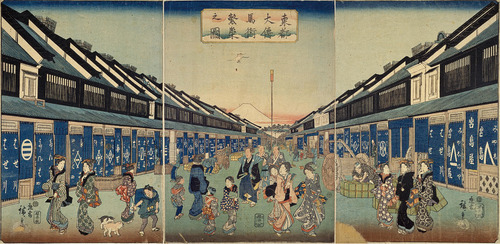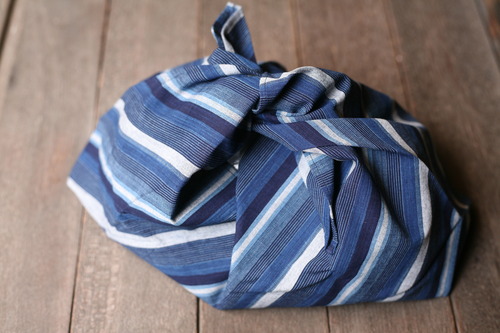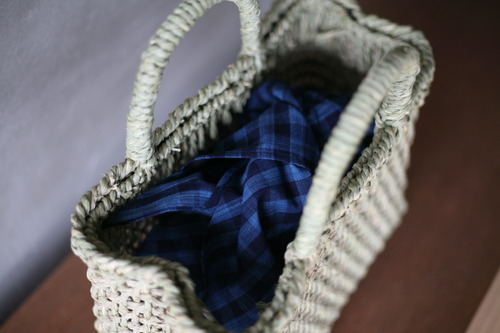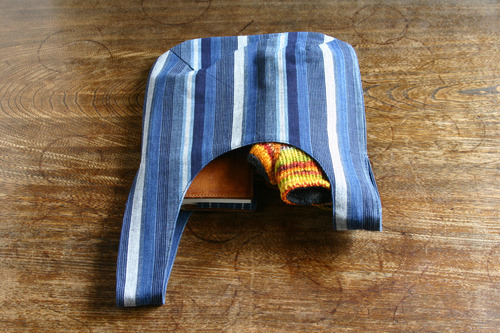 The vertical stripes that are characteristic of Matsusaka cotton are also called "Matsusaka-shima." Even today, kabuki actors wearing striped kimonos are called "wearing Matsusaka," indicating that Matsusaka cotton was representative of stripes.
The striped pattern of "Matsusaka-shima" comes from "crossing the island (importation)" of "Ryujo cloth," a cotton cloth with a narrow striped pattern like the veins of willow leaves, which was woven in the 15th century in the area around present-day northern Vietnam.
In the Edo period, Matsusaka cotton (then called Ise cotton or Seishu cotton) became very popular. At a time when the population of Edo was said to be one million, sales were over 500,000 a year. In particular, the Nihonbashi-Odenmacho 1-chome area was so crowded with cotton wholesalers from Ise Province that it was ridiculed as "1-chome (Odenmacho) is all about Ise stores," and the scene was depicted in Utagawa Hiroshige's Nishiki-e.
At that time in Edo, people could no longer wear gorgeous kimonos without hesitation due to the thrift ordinance. The common people of Edo took pride in the word "iki," which refers to a clean and unpretentious character, attitude, and appearance. From a distance, it looks plain, but when you get closer, you can see various striped patterns, giving it an "iki" and fashionable look that attracted the attention of Edo people.
There used to be more than 1,000 weavers in Matsusaka, the production area, but now there is only one weaver left. This one house alone supports the entire production of Matsusaka cotton. Marukawa Shoten is working with the last weavers to succeed and revive Matsusaka cotton.
It's nice to stroll around the city with the stripes of rustic texture and indigo blue that gets deeper the more you wash it.
Marukawa Shoten's Original Azuma Bukuro
https://www.shokunin.com/en/marukawa/azuma.html
Marukawa Shoten's Shijimi
https://www.shokunin.com/en/marukawa/shijimi.html
References
https://www.city.matsusaka.mie.jp/site/kanko/matsusakamomentoha.html