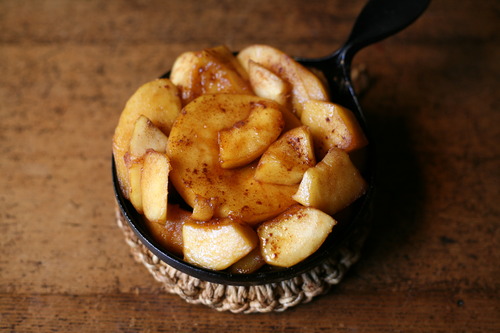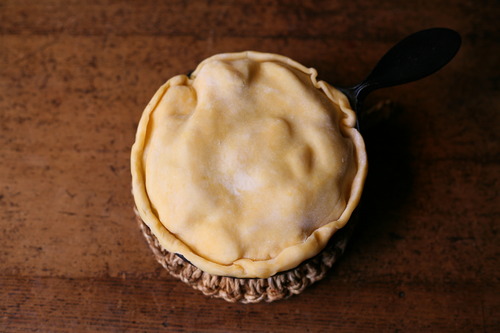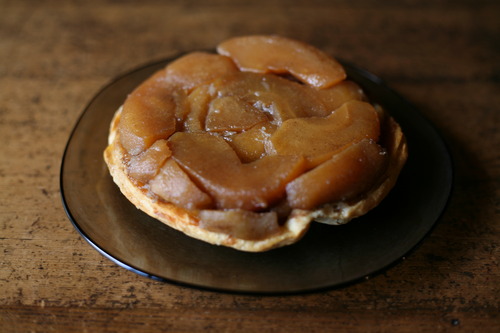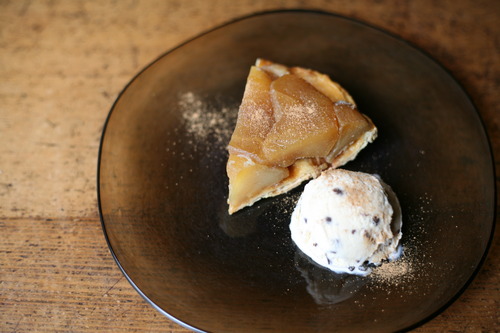 [Tarte Tatin Made with Mini Pan]
Tarte tatin is a pastry that originated in France, in which apples fried in caramelized butter and sugar are spread in a mold, covered with tart dough, and baked. The well-baked tart is turned over and the apple-side up is eaten.
There are many theories about how tarte tatin came to be, but one of them is that it was born by accident in the 1880s as a result of a cooking mistake at the Hotel Tatin in Lamotte-Bouvron in the Loire-et-Cher department south of Paris.
The hotel was run by the Tatin sisters, Stephanie and Caroline. One day, when Stephanie was making a traditional apple pie, she fried the apples too long with butter and sugar. When she smelled burning, Stephanie put the tart dough on the pan with the apples and put it in the oven without the pan, hoping to somehow make up for her mistake.
The upside-down tart was a big hit with the hotel guests. This tart became a specialty of the Hotel Tatin, and the method of making it spread throughout the Saurone region around Lamotte-Bouvron. Later, tarte tatin became known all over the world when it was added to the fixed menu of Maxim's, an exclusive restaurant in Paris.
Using Rikucho Ogasawara's Mini Pan, you can make a tarte tatin that is just the right size for three or four people to eat up. If you find some delicious looking apples, please try a homemade tarte tatin.
[Ingredients] 
2 apples
Pie crust (store-bought pie sheet) 
A pinch of cinnamon powder
33g unsalted butter
33g granulated sugar
[How to make]
1. Peel the apples, remove the core and seeds, and cut them into various sizes.
2. Heat a frying pan over medium heat, add butter, and when the butter melts, add granulated sugar and heat over low heat, stirring with a spatula.
3. When the ingredients in step 2 is caramelized, add the apples and cook the caramel sauce all over while letting the water from the apples drain off.
4. Preheat the oven to 180°C.
5. Roll out the pie dough to a thickness of 3 mm and cut into rounds one size larger than the mini pans.
6. Place the apples in step 4 on the Mini Pan, sprinkle with cinnamon powder and press down with a spatula to flatten the surface as much as possible.
7. Cover the ingredients in step 6 with pie crust and fold the overflowing crust inside.
8. Make a few holes in the surface of the pie crust with a knife and bake in the oven for 40 minutes.
9. After baking, remove from the oven, remove its heat, and refrigerate for half a day or overnight.
10. Cover the Mini Pan with a plate that is at least one size larger than the Mini Pan and turn it over.
Rikucho Ogasawara's Mini Pan
https://www.shokunin.com/en/rikucho/minipan.html
Fresco's Kasumi Plate S
https://www.shokunin.com/en/fresco/kasumiplate.html
References:
https://bit.ly/2RDJQkr
https://sweetsparis.com/histoire-tarte-tatin/
https://www.marmiton.org/recettes/recette_tarte-tatin_12456.aspx
 (Recipe)