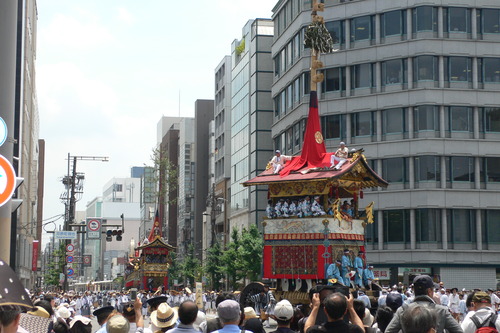 The Tenjin Festival is one of Japan's most celebrated festivals that has a tradition of over 1,000 years. It is held at Tenmangu (Tenjinsha) in various places in Japan. It is widely known as one of the three biggest festivals in Japan (other than the Gion Festival in Kyoto and Kanda Festival in Tokyo). It is also one of the three major summer festivals in Osaka, along with the Ikutama Summer Festival at Ikutama Shrine and the Sumiyoshi Festival at Sumiyoshi Taisha.
The event is held every year from late June to July 25 for about one month. On the night of the last day, Funatogyo, where many boats cross the Okawa River (former Yodogawa River), is held and votive fireworks go up. It is also called a festival of fire and water because of the splendid appearance of bonfires, lanterns, and fireworks reflected in the Okawa River.
Although the Funadogyo has been canceled due to the influence of COVID-19 this year, the main events of the festival were held as usual with the hope of dispelling the plague. We recommend you have a look at the video of the Yoimiya festival which was held on July 24th and enjoy the historical and beautiful event.
The video of the Yoimiya festival
https://www.youtube.com/watch?v=u0TYdkTptnY
Reference:
https://www.tenjinmatsuri.com/other/history
https://osakatemmangu.or.jp/saijireki/tjm/