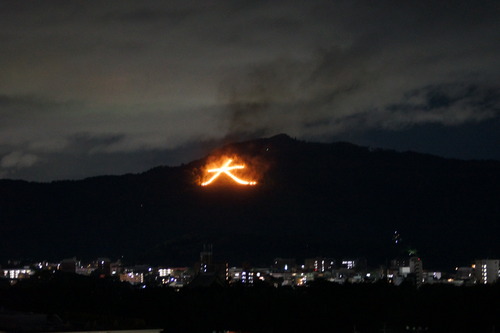 Gozan no Okuribi, or Mountain Bon Fire, is a traditional summer event, that takes place on August 16 every year.
Specifically, it is a ritual that involves setting giant Bon Fires on the surfaces of different mountains with each forming specific letters, and are acted with the intention to send off the spirits of the dead persons that temporarily returned to our world during the Bon period.
It is counted as one of the four greatest events in Kyoto along with Aoi Matsuri, Gion Matsuri, and Jidai Matsuri.
The most famous among the five Mountain Bon Fires is the Daimonji, which appears on the mountain of Nyoigadake. Though each Bon Fire are set on fire for only about 30 minutes, the fantastical scenery surely fascinates the viewers.
If you have the chance to visit Kyoto during Bon period, make sure to secure a seat near one of the Bon Fires ahead of the firing.
You could also walk around Kyoto to view all five Bon Fires during the morning before the firing while sightseeing. If you have time, please visit our showroom too.
https://www.shokunin.com/en/showroom/sanjo.html